From the outside, everything looked perfect.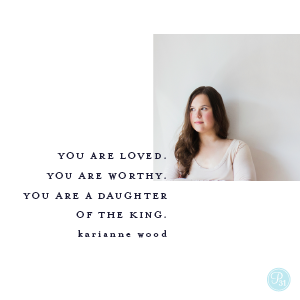 I had a husband I loved; happy, healthy children; a career filled with creative opportunities; a beautiful farmhouse filled with yard-sale finds. Standing on the outside looking in, my life looked like a storybook.
It seemed like I had it all.
But if you looked closer — if you peeled back the layers and dug a little deeper into my heart, you'd know. You'd see that I was battling a demon with a grip on me so tight it left me weary and broken.
My weight.
Truthfully, I'd always been a little heavy. The kind of heavy that comes with its own set of names, like chubby or pleasingly plump or stocky or tubby or chunky.
Or fluffy.
When I was younger, I remember overhearing a friend of the family whispering to my mother.
"Maybe she'll grow taller," she said in low undertones. "She's just got a little bit of extra weight on her. It's actually kind of cute. She's not fat. She's just fluffy."
As I listened to the hushed conversation, I wanted to scream at the top of my lungs. I wanted to shout so loud it could be heard across seven counties. I wanted to yell, "I'm right here. I hear you, and I'm NOT FLUFFY."
But I didn't. I didn't speak. Instead, I acted like I didn't care. Like the words didn't hurt — and I pushed my emotions down inside, layering it on top of frustration and hurt.
And slowly dipped another Oreo.
As I grew older, food became my comfort. Food became my friend, my confidant and my protector. Food was there for me on days when I was flying high and needed to celebrate, and it was there to make me feel better through the frustration and the hurt.
It was constant.
It was faithful.
I used it as a buffer against hurt and anger and sorrow and feelings of "less than" and "I'm not good enough" and all of the words others spoke so casually — so offhandedly — about my weight.
Words that wounded me to my core.
Daily I struggled. Daily I lost the battle. And then, in my darkest hour, at my lowest point, lying on my bed sobbing in prayer, with tears dripping off my cheeks, God used all that ugliness and self-doubt to His glory. In the midnight of that moment, He whispered the words I had been longing to hear …
… straight to my heart.
You are loved.
I can't accept it. I don't deserve it.
You are worthy.
Why, Lord? Why? Who am I?
You are a daughter of the King.
As those words of strength, healing and acceptance washed over me, slowly I felt the burden I was carrying melt away. I felt the guilt and the pain and the hurt wash away. I glimpsed the joy just beyond the curtain that was mine for the taking, and in that glorious, amazing moment, my heart shifted.
It was a beautiful reminder: God is the God of second chances.
"I praise you because I am fearfully and wonderfully made; your works are wonderful, I know that full well." In today's key verse, Psalm 139:14 reminds us of this truth: We are fearfully and wonderfully made by the King of the Universe, so we have no reason to fear others' wounding words.
Yet I'm still challenged. I still have miles to go. There are still days when the clouds roll in and the storms gather on the horizon and the pitfalls come my way, but this time it's different. Instead of reaching into the pantry, instead of filling my emptiness with food, instead of rolling back into the darkness, I simply remember that still, small voice …
… and adjust my crown.
Dear God, thank You for loving me in my weakness. Thank You for teaching me to embrace my imperfectness and for filling up the emptiness within me. Thank You for lifting me up and reminding me I am Yours. Father, I ask today for the peace that surpasses all understanding, and I lay my burdens and struggles at Your feet. In Jesus' Name, Amen.