Mom, what are you doing?" my teenage daughter asked in amusement, glancing over my shoulder. I quickly double-tapped the photo, embarrassed she had seen.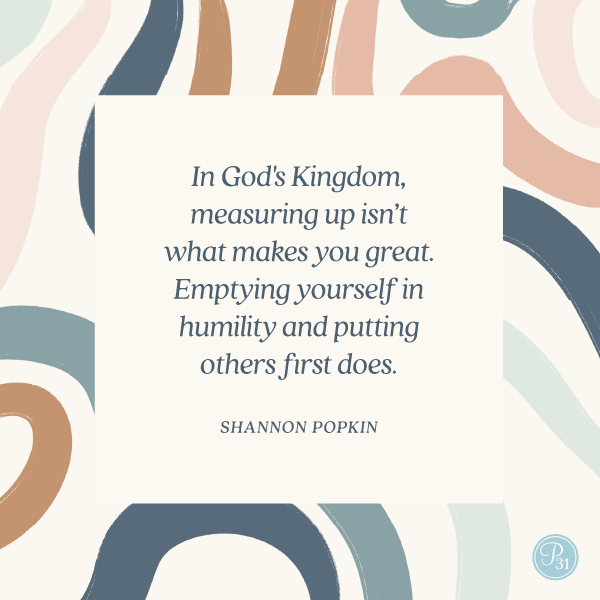 What was I doing? I had zoomed in on a photo of my friends and me, trying to get a better look — not at our faces, but our hips. Am I the biggest one? I had wondered. I expanded the photo and leaned in, examining whether anyone else's hips were as wide as mine.
"Uh … just looking at some photos from last night," I said casually to my daughter, then changed the subject. I closed my phone, but I knew that when she left the room, I'd be tempted to continue my comparison analysis of the photo.
It's interesting that we call comparison a "game," because I'm pretty sure Satan thinks of it as a foolproof strategy to distract and divide us. Those women in the photo are some of my closest friends and greatest supporters. But when I obsess over measuring myself against them, I only want to pull away. I either shrink back, not wanting my flaws to be seen, or I distance myself, not wanting to be outdone. Both ways, my enemy wins.
I love that the disciples struggled with comparison, not just because I can relate, but because as I read about their "who's the greatest?" arguments, I get to lean in and hear Jesus' response. Each time it's the same. The disciples elbow past each other, vying for "greatest disciple" status and making it obvious that they crave an answer for the same question I have: How do I measure up? And instead of answering it, Jesus repeatedly offers them a better one: How can I empty myself and serve?
There is a Kingdom, Jesus wants them to know, where measuring up isn't what makes you great. Emptying yourself in humility and putting others first does.
If there were a measuring cup filled with all your gifts, potential and resources, your enemy would point to the lines and incite you to repeatedly put your cup next to someone else's. But Jesus would point to the spout. He invites you to invest what's inside your cup to serve others and pour yourself out — like He did.
If Jesus had a measuring cup, it would be larger than the universe and brimming full. His worth is beyond compare, yet He didn't concern Himself with proving it. Instead, He "… emptied himself, by taking the form of a servant, … becoming obedient to the point of death, even death on a cross" (Philippians 2:7-8, ESV). For our sakes, Jesus took His measuring cup and turned it upside down. With the most extravagant humility the world has ever known, He "… poured out his soul to death …" (Isaiah 53:12, ESV). And because He did so, God lifted Him up and gave Him "the name that is above every name" (Philippians 2:9b).
When we pursue greatness in the Kingdom, we escape the measure-up mindset of the world.
Friend, are you exhausted by the endless comparing? Are you tired of measuring yourself against every friend, cousin or random stranger? Are you sick of zooming in on photos, scrutinizing your friends' hips?
How do I measure up? is the wrong question. Our Jesus has taught us a better one. One that leads to Kingdom greatness!
When I enter a room full of people and ask, How can I pour myself out? my attention naturally turns to the spout, not the lines. My measuring cup's contents take on new purpose if I'm looking for ways to serve, and keeping my distance makes no sense if I'm getting ready to pour. But here's the best part: When I tip my cup to one side, the lines become irrelevant. They don't matter anymore — and this sets me free.
If Jesus had a photo with His disciples, I think He would lean in and examine it closely, but not to measure and compare. He'd be smiling, remembering how He had invested in each of their lives. He loved them. He knew them personally. He emptied Himself to serve each one. That's the kind of friend I want to be.
Dear God, I want to pursue Kingdom greatness by looking for ways to humble myself and serve. In Jesus' Name, Amen.