Few things are more terrifying than being completely lost and alone.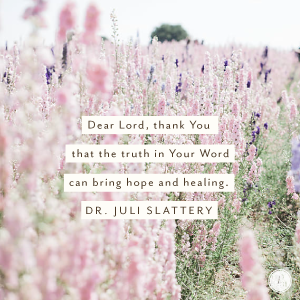 When we first moved to Colorado Springs, my husband and I were determined to take advantage of the natural beauty. One evening after work, Mike and I got someone to watch the kids, and we set out to conquer Eagle Peak, a challenging hike on the U.S. Air Force Academy base. It was summer, so we were confident we could hit the summit and be back in our car by sunset.
Eagle Peak proved more challenging than we anticipated, and we reached the summit with little sunlight left in the day. Mike wanted to enjoy the beautiful view at the top for a few minutes, but I was worried about hiking in the dark, so I got a head start on my descent. Unfortunately, I took the wrong trail.
The evening turned out to be one of the most stressful adventures of my life. Mike headed down the right path, assuming he would quickly catch up to me. I was left to navigate the mountain by myself in the dark, ill-prepared, with no guide and no experience. There were moments of that evening when I wondered, Would I ever see my husband and children again?
By God's grace, I reached the trailhead a few hours later, where my frantic husband was waiting for me. He had Air Force personnel preparing a search-and-rescue mission, ready with a helicopter.
While not as tangible as being lost in the dark, the journey of sexuality can be just as lonely and terrifying.
It can be a journey of shame from sexual choices and struggles.
A journey of confusion: What does God really say about sexuality?
A journey of division, as churches and families are torn apart by disagreements about sexual issues.
A journey of despair, watching a loved one trapped in addiction.
A journey of conflict, as a husband and wife encounter sexual difficulty.
There seems to be no reliable guide or discernible path toward truth in the middle of this darkness. It's easy to feel wholly unprepared to navigate the unfamiliar questions and challenges of sexuality in the 21st century.
Yet just like my husband launched a search to find me, I believe God is a "search-and-rescue" God. His truth is a light in the darkness, and He brings along men and women to guide us when we aren't sure how to find our way home.
As Luke 15:3-4 instructs, "So Jesus told them this story: 'If a man has a hundred sheep and one of them gets lost, what will he do? Won't he leave the ninety-nine others in the wilderness and go to search for the one that is lost until he finds it?'"
For far too long, Christianity has not represented a safe place to find help related to sexuality. Ironically, everyone seems to be talking about sex but rarely within the context of home and church. It's time to change that, starting with you and me.
For generations, we simply didn't talk about things such as sexual addiction, sexual abuse, sexual dysfunction, or even sexual pleasure in marriage. Just like I was on that mountain, people were left to navigate this terrain on their own or seek help from modern psychology that didn't always follow God's guidance.
But thankfully, God did not avoid difficult and controversial topics in Scripture. In our efforts to reflect Him on earth, neither should we. He wasn't shy about addressing sexuality in His Word, and it's well worth our time to seek God's truth in this area of our lives.
We must be His ambassadors to take this truth to a hurting world, even if it takes a little searching of our own to find it.
Dear Lord, thank You that the truth in Your Word can bring hope and healing. I'm grateful You care about my sexual pain and that Your wisdom extends into and through my sexuality. Help me apply Jesus' love and redemption to my life and those near to me, in all circumstances. In Jesus' Name, Amen.