Years ago, my husband Richard and I opened our home to college students. One day more recently, a conversation from one of those former students showed up in my social media newsfeed. In it, he lamented that he wasn't sure about his faith anymore.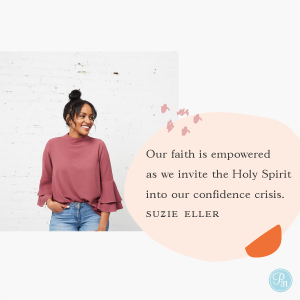 As I read this post, I wandered back to those beautiful, fun, messy years of college ministry. There were mass quantities of chicken enchiladas at our kitchen table. We laughed with the students. We held deep conversations about faith. We listened when they shared their mistakes, and we prayed with them as they walked into Jesus' love.
Suddenly I was in a confidence crisis as well.
Was it all in vain?
Had we done something wrong?
Fear is the root of most confidence crises. Our friend's fear was that everything he believed was no longer true. My fear was that we had failed him in some way.
While fear is the root of most confidence crises, the target is our faith. In this particular confidence crisis, the temptation was to take my eyes off the truth.
The truth is, we have an enemy who desires to distort our faith, and he is hard at work.
The truth is, we're only asked to do the best we know as a parent, a friend or a leader in ministry, and we don't get to stake a claim in a person's personal relationship with God, no matter what that looks like.
The truth is, we are never alone in a battle, and our confidence or competence will never be found in feelings, but in God.
In today's key passage, Paul reminds believers in the church at Corinth about that truth. He and others brought the message to them, but it was the Spirit of God that brought it to life.
"Such confidence we have through Christ before God. Not that we are competent in ourselves to claim anything for ourselves, but our competence comes from God. He has made us competent as ministers of a new covenant — not of the letter but of the Spirit; for the letter kills, but the Spirit gives life" (2 Corinthians 3:4-6).
Rather than surrender to fear or doubt, it was time to go to the Source. I prayed for my friend. I asked for direction.
After praying, I sent a brief message, letting him know that we cared and were available if needed. He sent a message back, and we began to talk over some of the hard questions he was asking. Several weeks later, our old friend sent a message.
"I'm finding my way back," he said.
When we face a confidence crisis, whether it's our own or a result of someone we care about, we're not without help. As we ask for help, we are released from uncertainty. The Holy Spirit eases into our confidence crisis to remind us of what we can and cannot do on our own. We are freed to bring doubts and questions to our heavenly Father in prayer. We are released from the need to control the outcome, allowing us to be open to play a part as the Holy Spirit leads, or to trust as God works behind the scenes.
A confidence crisis can drain life from our faith. We become so busy trying to repair, foster and manage what's beyond our ability that we live in defeat or continual frustration. But our faith is empowered as we invite the Holy Spirit into that confidence crisis, whether our own or for someone we care about.
We play our part, but we should always leave lots of room for God to play His — because our confidence is established in Him.
Father, thank You for help. You are a good Father, and You give good gifts — and I receive this gift. Thank You for renewed confidence in this area, not in the circumstance or even in what I can or cannot do, but in who You are. In Jesus' Name, Amen.